Pfäffikon SZ, Switzerland – You will not have failed to notice how the government is trying to take advantage of the imbalance between various trade relations that the US maintains. In some cases, Trump certainly has a point. This does not alter the fact that Trump often deliberately creates a one-sided, unrealistic and bloated picture. Trump calls the US the cash register of the world where everyone takes money. However, what about the US Dollar?
Re-election
Trump is busy with his re-election. The elections seem far away, but Trump knows better than anyone else that he must mature the spirits, especially in his party. Publicly attacking large trading blocks makes the people believe he is doing everything he can to support the US economy further. Even so-called experts are screaming bloody murder that Trump is throwing the world into a recession; nothing is less accurate.
Trump may be fickle, but he is not crazy, and his right hand Wilbur Ross certainly not. Trump knows very well that his import duties will never break down the world trade. Traders laugh at the import duties and are benefiting from the US President's drive. The black market is flourishing under the Trump regime. Trump is a master in spouting nonsense, winkle out commitments and pursuing goals that do not exist or are unfeasible upfront. For those who have been following Trump for longer, his behavior is no surprise. Trump wants to win, and almost always wins in a way that seems disturbed at first sight.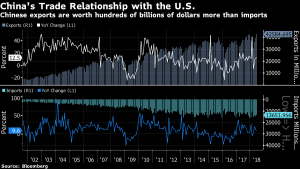 Propaganda
For example, when we look at the imbalance between the US and China concerning imports and exports, the differences become clear. Trump makes good use of the situation by blaming China for clearing the US cash register. This is pure propaganda to secure his political goals in particular.
Trump consciously forgets to tell the immeasurable advantage that the US enjoys in the currency area. The American dollar is the largest financial printer in the world and Trump knows that like no other. Nobody in the world enjoys this immense advantage. In fact, Trump's alleged wealth is primarily derived from this currency advantage.
Do not let Trump's statements cloud your judgment. Almost all his statements have a double bottom. Trump misleads both so-called experts and the general public. When it turns out that Trump's desire for action is only insignificant and has no impact, the stock exchange may surprise you positively towards the end of the year.
It remains for me to wish you a good trading week.
---
Jan Dwarshuis is CIO at Thirteen Asset Management AG. Dwarshuis writes his columns in a personal capacity. Professionally, he holds positions in major European, American and Russian stock funds. The information in his columns is not intended as professional investment advice or a recommendation to make certain investments. At the time of writing, he has no position in above mentioned shares and has no intention of doing so in the next 72 hours.
https://1324.ch/wp-content/uploads/2013/09/columns-website-image.jpg
140
140
1324 AG
https://1324.ch/wp-content/uploads/2020/04/Logo-1324-home4.png
1324 AG
2018-09-10 09:00:01
2018-09-10 12:06:05
Currency Benefits